The task of the artist is to invent the self that will create the work.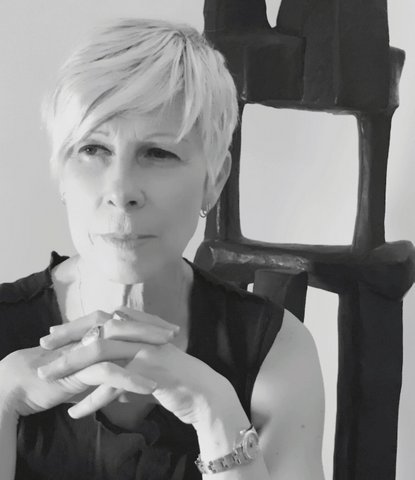 Zoya Niedermann strives to seek a balance with organic and geometric lines, using the solitary human form as her subject. Born in Montreal in l954 she studied at the Montreal Museum of Fine Arts School and Concordia University.  During this time she began traveling extensively abroad and in the early 80's produced a series in welded steel on the theme "The City". Then in the 90's she spent several years in New York City where she experienced first hand the energy of the artistic community there, meeting artists like Lichtenstein, Fischl, Venet, Arman but always returning to Italy where she began casting in bronze. In 1993 she was awarded the Hakone Open-Air Museum Price at the prestigious Fujisankei Biennale in Japan.
She has many exterior sculptures world-wide including Canada, at the Industrial Life Tower in Montreal; at the George Bernard Shaw Theater in Niagara-on-the-Lake in Ontario; and in private collections in Switzerland, Italy, Germany, Australia, U.S.A., and Japan.
Currently Niedermann exhibits in Montreal at the Landau Contemporary Art Gallery.
COLLECTIONS
N. Marine
M. V. Caribou
North Sidney, Nouvelle-ÉcosseGeorge Bernard Shaw Theatre *
Niagara-on-the-Lake, Ontario

Collection Lavalin
Montreal

Bombardier Inc.
Montreal

La Corporation Première Quebec * Montreal

Horowitz House Publishing *
Sidney, Australie

Mario Botta, architecte
Lugano, Suisse

Windsor University Library
Windsor, OntarioMusée en p1ein air Hakone *
Tokyo, Japon

Porcelli Marmi S.N.C.
Florence, Italie

Canderel
Montreal

Musee d'art Contemporain
Montreal, Quebec

Achenbach Foundation for Graphic Arts
de Young Musuem
San Fransico, California
* Exterior installations
EXHIBITIONS
Université Concordia
Montreal
19781er et 2e Salon National des Galeries d'art Palais des Congrès de Montréal
1983-1984

Galerie Dominion
Montreal (solo)
1988

Studio d'art La Subbia
Livorno, Italie
1989

Galleria Poma
Lugano, Suisse
1989

Galerie Dominion
Montreal (solo)
1990

Musée d'art de Joliette
Joliette, Quebec
1990

Galerie Frank Pages
Baden-Baden, Allemagne
1991 (solo)

La Maison des Coopérants
Montreal (solo)
1992

Biennale Fujisankei
Tokyo, Japon
1993

Grand Palais FIAC
Paris, France
1993 (solo)

Art Chicago International
Chicago, États-Unis
1994Art Frankfurt
Francfort, Allemagne
1995

Art Miami
Miami Beach, États-Unis
1996

Art Strasbourg
Strasbourg, France
1996

Galerie D'Avignon
Montreal, Quebec
2001

Marcel Scheiner Gallery
Hilton Head Island
South Carolina
2002

Galerie Bernard Desroches
Montreal, Quebec
2004

Galerie D'este
Montreal, Quebec
2006

The Robert Poulin Collection
Montreal, Quebec
2007

L'Association des galeries d'art Coontemporain Papier 07
Montreal, Quebec
2007
For further information email artist's studio below.